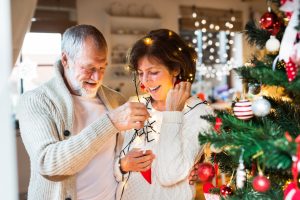 Living with Vertigo means living with how it affects every aspect of your life, Holidays included. How you plan on spending your holidays solely depends if and when your vertigo attacks will strike. You may find yourself missing out on moments you otherwise would be enjoying with your friends and family. Being unable to travel across states worrying that your balance may be severely affected while in transit. Here are some tips to help you get to where you want to be and enjoy the moments that mean the most to you this holiday season. 
Get Rest 
We all know how stressful the holidays can get and even more so, with the days leading up to them. It may sound simple but getting your rest will help you immensely while preparing for your holiday guests or travel. Keep screens an hour before bedtime will help prepare you for sleep. If your mind tends to run, keep a note pad next to your bed and write down the tasks that pop up.
Stay Fueled 
Keep your stomach topped off with healthy snacks will help you stay fueled during the demanding hours of the day when you need to get your to-do list done. Nothing good ever comes from skipping meals. Stay away from salty, sugary and caffeinated snacks. Staying hydrated is also important as dehydration alone can cause vertigo.
Practice Breathing
Feeling stressed? Check-in with your breathing. Taking in deep oxygenated breathes and pushing them out with your stomach muscles to help you recenter your focus and collect yourself. Stress is a huge trigger for Vertigo sufferers and the last thing you need is being curbed due to a vertigo attack. It's normal to feel overwhelmed, allow yourself a moment to collect your thoughts and breathe.
Know your Triggers 
The tricky thing about Vertigo is that everyday motions can send you reeling. Knowing your personal limitations is key to getting what you need done or getting to where you need to get. 
Delegate 
Yes, you are allowed to ask for help with tasks! Delegating tasks that you may not be able to do will help you take a load off. The holidays bring us together and being together means helpful hands everywhere.
Your Holiday season shouldn't be interrupted by Vertigo. Di-Vertigo is an all-natural essential oil formula that helps ease and soothe the effects of vertigo. Thousands of people have used Di-Vertigo to find relief and freedom from their symptoms and allow them to regain their lives before vertigo. Our money-back guarantee means all you have to lose are your symptoms. From all of us at Di-Vertigo we wish you a happy holiday season and a happy new year.